I recently learned how to glass etch with stencil made from my Cricut. I thought it would be fun to share this technique!

Supplies: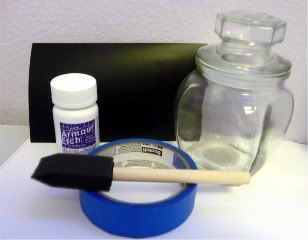 Vinyl ( Most craft stores or online I buy it here.) if using your Cricut or a store bought stencil,
Glass Etching Cream ( I purchased this at Michaels for $12.99),
Tranfer tape, painter's tape, foam brush, Glass object, timer, Mild soap & water.

Let's Get Started!

First, you will need to wash and thoroughly dry your glass object.
Next you will need to cut your vinyl with your Cricut. I am going to use a "B" from Lyrical Letters and a Butterfly
from Create a Critter.


Create a Critter page 69, cut at 11/2.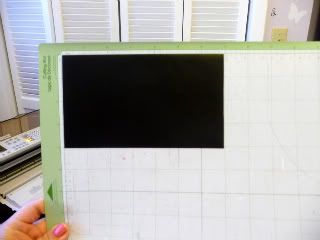 Place your vinyl on your mat and cut.
For Vinyl I use these settings, Blade- 6, Pressure- 3 & Speed-3.
This makes sure it cuts the vinyl and not the backing for easy placement and removal.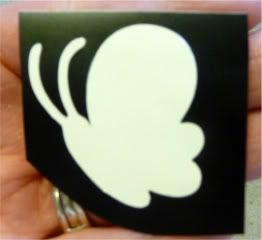 You want a "Negative" image of your cut out, like this.
Next apply the transfer tape or you can use painter's tape as well and remove backing of the vinyl.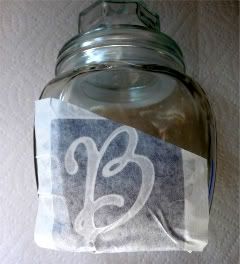 Then place your vinyl with the transfer tape where you would like it on your object.
Burnish with a tool ( Bone folder, rub on roller or spoon like I use here). You need all the air bubbles gone and the vinyl as smooth as you can get it.
Remove transfer tape slowly to make sure your vinyl sticks to your object.



Next apply Painter's Tape around your Stencil or Vinyl so the glass you don't want etched is covered and protected.
Tip: When using a rounded or curved object, more is better!!




Then apply your Etching Cream. Make sure your "paint" up and down slowly with a very thick layer of the cream, this will "activate" the cream.
Plus it will make sure your etched finish is smooth and even.



Then set your timer for 15- 30 mins.
(The jar reads 5 seconds but I found any time between 15-30 minutes works best.)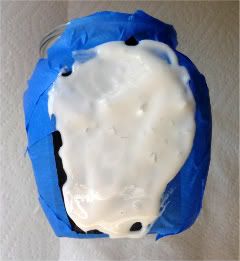 After the time is up, rinse off all the Etching Cream with Warm Water.
Remove painter's tape and vinyl or stencil.
Wash with warm water and mild soap.
Dry.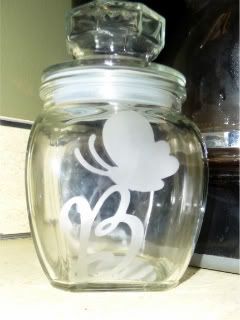 You will have a beautifully glass etched project.
A few more projects I have made.




Coffee jars with cups & a Hello Kitty coffee cup.
I Hope you enjoyed today's tutorial and decide to give it a try.
This technique is alot of fun and has beautiful results!
Have a wonderful day!